 Posted at 7:15am — 8/23/2013
Michigan Football: the tweet, The Tweet, THE TWEET! — 8/21/2013
GBMWolverine Readers: Here is an overview of University of Michigan happenings in the Twitterverse.
A few selected versus from the Bob Dylan song – Times They Are A-Changin'. Please get out of the new one, If you can't lend a hand, For your times they are a-changin'. And the first one now, Will later be last, For the times they are a-changin'. However, this time in reverse order, and returning to the Michigan of old. Though not many would say they did not love the

electrifying play of Denard "Shoelace" Robinson, most would say they missed Michigan Football, and the way it was played. Proof that Michigan is returning to its roots, was further seen evident beyond play calling, defensive schemes, and a 'cloud of dust' with the return of quarterback and Superbowl MVP Tom Brady, who had not been back to Ann Arbor since 2007. Brady took the time to address the team, and tell them why Michigan is special, and to embrace their changing times.
WATCH: Tom Brady returns to Michigan & talks to Team 134 – http://t.co/pgGcPBDQs0 #Team134Camp

— Michigan Football (@umichfootball) August 22, 2013
Part of this return, is the re-establishment of the drop-back quarterback. Many questions going into the 2013 exist behind starter Devin Gardner, and the injured probable second stringer Russell Bellomy.
Those questions have received answering, and Hoke has identified that true freshman Shane Morris will be the back-up should Devin need one.
Michigan freshman Shane Morris wins the team's backup quarterback job @MLive http://t.co/fdDn5XVPjc

— Nick Baumgardner (@nickbaumgardner) August 22, 2013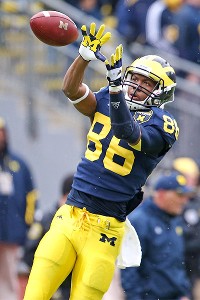 Speaking of injuries, and the next man up. By now most have heard that receiver Amarah Darboh, who presumably would have been a starter at receiver joined the list of the Michigan pre-season walking wounded, and will miss the 2013 season due to injury.
Though we were looking forward to what he brings, we had yet to see it live during game-day, and though the angst is understood there is some depth though also unproven that will fill the void. The injury may be the opportunity for speedster Jehu Chesson to be a play-maker in the ilk of Wolverine receivers of old.
There ARE options. Darboh wasn't any more proven than any of the other youngsters. Zero catches, just like Chesson, Dukes, Jones, York, etc

— Nick Baumgardner (@nickbaumgardner) August 21, 2013
The Darboh situation, though sad shows the benefit of depth and allows us to see the depth Michigan is adding via recruiting by there being potential options.
Today is another possibility for the adding of depth on defense, as Lakewood (Ohio) St. Edward cornerback Shaun Crawford will make his college verbal commitment on ESPN – most feel strongly it will be a maize and blue choice.
Everyone try to tune into ESPN3 or go on http://t.co/omy3jZMKzf to watch me announce my commitment live at 4pm tomorrow on my bday!

— Shaun Crawford (@Crawf_4) August 22, 2013
Come to the message board and give us your thoughts, agree or disagree.
Just a reminder you must be a member to participate on the Message Board. Here is the link for the registration page for those people interested in becoming a GBMWolverine member of our message board. GBMWolverine Register.
Please comment on our GBMWolverine Message Board about this article and read what others comment. Make note that our message board has changed so make sure you change your favorite/bookmark as well for the direct link.
You can contact us at our e-mail address: GBMWolverine
Follow us on Twitter:
@ErocWolverine
@GBMWolverine
@Mike Fitzpatrick
@YostMeister
Written by GBMWolverine Staff — SkwdCop
Go Blue — Wear Maize! Tags: #GoBlue Michigan Football Michigan Wolverines Recruiting