Michigan Basketball: Michigan State at Michigan — A Real Game With Real Meaning
Michigan State at Michigan
***MAIZE OUT***
Crisler Arena – Ann Arbor, MI.
2:00pm – 4:00pm
CBS Regional Coverage
Coverage Map: Michigan State at Michigan Regional Map
Announcers: Tim Brando, Mike Gminski
DirecTV Customers: if you have the DirecTV SPORTS PACK or the PREMIER PACKAGE you should be able to see the game on channel 728 if your out of the area in the coverage map. If you go to that channel and hit info it will tell you more details.
CBS Online: CBS Online coverage of Michigan State at Michigan.
Remember for those attending the game today that it is a MAIZE OUT GAME! Bring your maize, bring your voices and bring it loud and proud against Michigan State today.
This is a battle for possible 4th place in the Big Ten standings possible.


Ohio State… 15-2
Purdue … 14-3
Wisconsin … 13-4
Michigan State … 9-8
Illinois … 8-9
Michigan … 8-9
Penn State … 8-9

Michigan swept Penn State this year and if they win against Michigan State today that should put them ahead of those two teams in the Big Ten standings and seeding for the Big Ten Tournament. Indiana has been playing better basketball lately, but tough to beat Illinois on their home court.

Finally, a big game that has more than entertainment value, such as the Duke, Kansas, and Connecticut games of the past few years. Yes, those games were big, but tomorrow's game with Michigan State has tangible values that could pay off big time.

First, a win gives Michigan a leg up on a couple of other bubble (or barely in) teams, a loss may put the Wolverines in a position of needing to win at two games in the conference tournament to make the NCAA. Win this game and the price probably goes down to one win in the conference tournament. A loss for Michigan State gives the Spartans 13 losses and provides some doubt as to tournament entry entering the conference tournament. In short, the stakes are truly high. The prize of victory supersedes all other factors cited below.


Second, Coach Izzo has not forgotten the mid-season swoon the Sparties undertook, including the loss to Michigan at home. While Izzo has bigger fish to fry, a victory at Crisler would provide a temporary buffer to regroup, physically and mentally.

Third, a win would help both teams in the conference seeding. No one wants to face Ohio State or Purdue in the second round.

What To Look For:

Michigan State has improved but still turns the ball over somewhat alarmingly. Kalin Lucas is doing everything possible to carry his team, but at a price. Make no mistake, Kalin and a little better inside game, has spurred the recent improvement. Lucas is a true competitor, as is Coach Izzo. Lucas will play his heart out and Izzo has worked overtime to produce better results in the bounce back game.

Michigan did a good job of not letting Lucas own the floor in East Lansing, the same must happen tomorrow for Michigan to win. Lucas will score and make plays, he simply must not be allowed to dominate and dictate play. Last time around, Michigan did a nice job of taking away the middle and making Lucas work hard for good shots.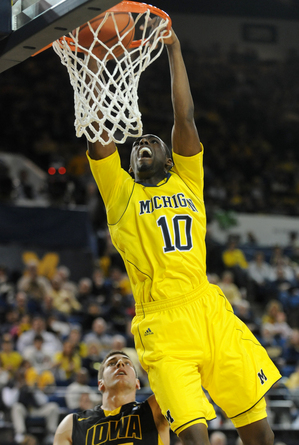 Will the Michigan State Spartan forwards, Roe and Green, produce better than the game in East Lansing? If so, Michigan is in trouble since a good inside game can take a toll on Michigan's starters and defensive success. Michigan will not keep this fine duo off the boards all day, but again, like with Lucas, the objective is to limit the damage to a level where Michigan can hang on and pull off a win.
Will Michigan match the Spartan's defensive intensity? If the Wolverines do and limit State's shooting effectiveness, then I like Michigan's chances. Two bug-a-boos for Michigan State this year have been mediocre shooting and some bad hands (turnovers). Michigan needs pressure to insure Michigan State does not have a high shooting and low turnover game (a rarity this season).
Which team wants it more and will play harder, especially during the times when adversity pops up and the chair is ready to fold? Michigan is starting to show more tenacity and mental toughness. The Wolverines will be facing a team with toughness, if not the superior execution of year's past. So, man up and play with all the toughness needed to resist the force that Michigan State can be. And while at it Wolverines keep the poise and focus necessary to execute the game plan. The reward is great.
Just a reminder you must be a member to participate on the Message Board. Here is the link for the registration page for those people interested in becoming a GBMWolverine member of our message board. GBMWolverine Register.
Please comment on our GBMWolverine Message Board about this article and read what others comment.
You can contact us at our e-mail address: GBMWolverine
Follow us on Twitter:
@ErocWolverine
@GBMWolverine
@Mike Fitzpatrick
@YostMeister
Written by GBMWolverine Staff
Go Blue — Wear Maize! Tags: Basketball Big Ten Conference Coach John Beilein Go Blue Michigan Basketball Michigan State Spartans Wolverines