Michigan Football: Wolverine Commit Stats Week Three — 9/17/13 Week three is now behind the Wolverine 2014 and 2015 football commits. RB Damien Harris did not have the PlayStation numbers he had been recording, but still tallied a solid game. But what is impressive is that teammates Mason Cole and George Campbell's team have yet to allow a point scored through three games, and Eastlake has accumulated 119 points.
Middle linebacker Michael Ferns' team St. Clairsville High School returned to action defeating Renaissance Christian (Phoenixville, PA) 27-20 to remain a perfect 3-0. Mike caught two touchdown passes, and 5 receptions and two TDs on the season.
Quarterback Wilton Speight continues to get it done through the air. The Collegiate School were the victors @ Benedictine (Richmond, VA) by a score of 35-21. Speight helped Collegiate to remain unbeaten at 2-0 throwing 18 completions 40 attempts (45%) for 315 yards, 4 TDs, and he had his first pick of the season. In two games his stats are 32 of 68 (47.0%) passing for 597 yards (18.5 yds avg) and 7 TDs, 57 yards rushing, and one interception.
Defensive tackle #52 Bryan Mone's team Highland High School improved to 3-1 with a 35-14 victory @ Kearns (Kearns, UT). There weren't ang game stats available; his season stats include 8 tackles, 2 TFL, and 3 sacks., while also playing offensive lineman.
2014 and 2015 teammate Michigan commits OT Mason Cole, WR George Campbell, and the East Lake High School are playing dominant ball both offensively and defensively and have yet to allow a single point for their opponents are a perfect 3-0. There are no stats for Cole, his teammate Campbell had 3 receptions for 72 yards (24 ypc), and a TD, 3 tackles and 2 sacks on defense in the 48-0 defeat of Dunedin (Dunedin, FL) , and has 6 receptions for 165 yards (27.5 ypc) and 2 TDs; 9 tackles and 5 sacks on defense for the season.
WR Drake Harris remains out with an injury, but Grand Rapids Christian High School bettered their record to 2-1 with a 27-10 victory at home versus Kenowa Hills (Grand Rapids, MI).
TE Ian Bunting and his Hinsdale Central High School put another notch in the win column (2-1) besting York (Elmhurst, IL) on the road by a score of 30-7. There were no stats for Ian in the game, his season stats are 3 reception for 17 yards (5.7 ypc) and a TFL.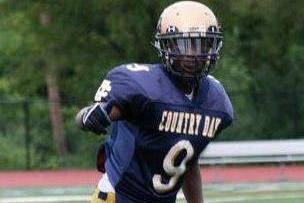 Detroit Country Day School WR commit Maurice Ways season has been short, but is already getting long as they suffered their third straight loss (0-3) via 20-13 loss to Loyola (Detroit, MI). Ways had a 27 yard reception. Maurice has made 14 catches for 293 yards (20.9 ypc), and two TDs in total.
Southfield High School DE commit Lawrence Marshall had a nice game recording 4 tackles, 1 sack, and 1 forced fumble in a 48-0 win @ Bloomfield Hills (Bloomfield Hills, MI) that increases the Blue-jay record to 2-1. Lawrence has 7 tackles, a forced fumble, 4 sacks and a safety for the season.
2014 Paramus Catholic High School teammates OT Juwan Bushell-Beatty and CB Jabrill Peppers remain a perfect 2-0 after their second game defeating Delbarton (Morristown, NJ) in an away game by the score 30-18. Juwan still has no stats available; Peppers had 10 carries for 114 yards (11.4 ypc) and a TD, he also caught a five-yard TD reception. On the year Jabril has recorded 213 yards rushing on 19 attempts (11.2 ypc) and three TDs, one 5-yard receiving TD.
Linebacker Chase Winovich and his Thomas Jefferson High School are an undefeated 3-0 with a 45-12 win @ Hollidaysburg (Hollidaysburg, PA). Chase had 3 rushes for 34 yards (11.3 ypc) and a TD, and a TD

pass of 6 yards. No D stats were available but the team limited Hollidaysburg to 28 yards on the ground and 121 yards in total offense. Winovich has 15 tackles, two sacks, 1 TFL, a fumble recovery, a forced fumble, five rushing scores, and two TD passes.
Duo 2014 commits Corner Brandon Watson, and WR Freddy Canteen from Eastern Christian Academy suffered their first loss of the season against St. Peter's Prep (Jersey City, NJ) and are now 3-1, after the 35-32 defeat. Watson made 3 tackles and 1 interception, and Canteen had two TD receptions. Canteen has four TD receptions for the season, and Watson 14 tackles, 2 interceptions, and fumble return TD.
Kenton High School Outside Backer commit Noah Furbush defeated Memorial (St. Marys, OH) by a score of 66-14, to go 3-0 on the season. Furbush had two tackles, including one TFL. For the season Noah has 17 tackles, including 7 tackles for loss, and four sacks.
2104 OLB commit Jared Wangler's De La Salle Collegiate High School are 1-2 having won against Chandler Park Academy (Harper Woods, MI) by a score of 42-14, last week they suffered a forfeit because of a scheduling conflict with Canadian St. Thomas More. There were no stats available for this week's game, on the season Jared has 13 tackles, including two for a loss, and a sack; and three receptions for 28 yards (9.3 ypc).
Barron Collier High School and potential grayshirt 2014/15 DT commit Brady Pallante are 2-0 after defeating Golden Gate (Naples, FL) 42-13. There were no stats available, Brady has 12 tackles, including two for a loss for the season.
Washington Massillon High School and Michigan 2015 Kicker commit Andrew David are a perfect 3-0 after defeating Harding (Warren, OH) in an away game 35-14. David made 3 punts for 120 yards (40.0 avg), 6 kickoffs for 351 (58.5 avg), and five extra points. He played one game at QB and went 7-of-10 passing for 59 yards, including a 20-yard touchdown pass; 1 of 4 field goal attempts (25.0 percent), with a 20-yard long, and 8 punts for 291 yards (36.4 avg), 9 kickoffs for 522 (58.0 avg), 9 made PATS (1 blocked).
2015 OT commit Jon Runyan Jr. and St. Joseph's Prep School put another tally in the win column and are 2-1 after the defeat of North Penn (Lansdale, PA) by a score of 35-6. No stats game or season have been found for Runyan.
2015 running back commit Damien Harris played tougher competition, and thus did not tally the PlayStation like numbers for Madison Southern High School this week. That said he was still crucial in the 21-19 victory over Paul Laurence Dunbar (Lexington, KY) and a perfect 4-0 record. Harris ran the ball 20 times for 146 yards (7.3 ypc), and 1 TD, and a blocked extra point. On the season he has 791 yards on 66 carries (11.9 ypc) with 13 rushing TDs, and a 60-yard TD on a kickoff return; blocked PAT on special teams.
2015 corner Shaun Crawford had a 21-yard run, and a 24-yard reception in Saint Edward High School's win over Woodson (Washington, DC) by a score of 49-0, and remain undefeated at 3-0. Crawford played both ways, and the minimal information are the stat above, a blocked punt, and one blocked PAT.
2015 Safety commit Tyree Kinnel and Wayne High School suffered their first loss of the season to Lakota West (West Chester, OH) by a score of 31-27, and are now 2 and 1. Kinnel had five tackles in the game, and now has 15 tackles on the season.
Hope you enjoyed, it is purely informational, and to be taken with less than a grain of salt because of limited information available.
Come to the message board and give us your thoughts, agree or disagree.
Just a reminder you must be a member to participate on the Message Board. Here is the link for the registration page for those people interested in becoming a GBMWolverine member of our message board. GBMWolverine Register.
Please comment on our GBMWolverine Message Board about this article and read what others comment. Make note that our message board has changed so make sure you change your favorite/bookmark as well for the direct link.
You can contact us at our e-mail address: GBMWolverine
Follow us on Twitter:
@ErocWolverine
@GBMWolverine
@Mike Fitzpatrick
@YostMeister
Written by GBMWolverine Staff — SkwdCop
Go Blue — Wear Maize! Tags: #GoBlue Go Blue Michigan Football Michigan Wolverines Recruiting