Posted at 10:00am — 8/17/2013 Posted at 8:45am — 8/17/2013
Michigan Football: the tweet, The Tweet, THE TWEET! — 8/17/2013
GBMWolverine Readers: Here is an overview of University of Michigan happenings in the Twitterverse.
It took all of one game in 2012 for the secondary to be put into a state of flux when corner Blake Countess went down with a season ending injury during the Cowboy Classic against Alabama. Since that injury we have also seen the graduation of Safety Jordan Kovacs and departure of Safety Marvin Robinson who seeks a starting position, so while Blake has returned,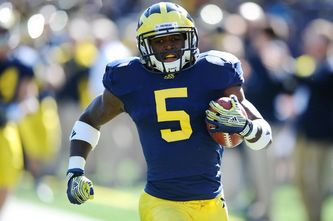 and there is excellent depth at corner and nickel, safety is now a position of concern. During a recent presser Defensive Coordinator Greg Robinson discussed the desire to ensure that a player loss would not be as devastating as the Countess injury was, and thus is trying to ensure the secondary players are capable of filling multiple positions. Including the recent identification that senior Courtney Avery who has played both corner, and nickel is also receiving practice time at safety.
Wolverines corner Courtney Avery learning the ropes at safety http://t.co/IxKUEXFAUL

— Mark Snyder (@Mark__Snyder) August 17, 2013
The Big Ten Network fall tour of Michigan aired last night, and while the show was more like a random grouping of soundbites, more so than an actual preview that a fan could glean anything from.
The two main item to take away from the show were the fact that Michigan and Ohio are separating from the pack through recruiting, and though the buckeyes may possess a little more speed, the two teams are really close in talent and potential.
Interesting to see the BTN open its UM preview by comparing UM to OSU. DiNardo: team w better defense will win matchup

— Mark Snyder (@Mark__Snyder) August 17, 2013
Despite some secondary concerns, it appears that the front seven will be deep enough, and have the talent to roll potentially three sets of players in without a large change in capabilities. This will be a huge benefit as Michigan enters the teeth of the schedule in the later part of the year. If this is the case, and the front four can dominate the line, achieve pressure, stop the run, and get sacks with a three squad rotation it may be a very good year on defense.
Michigan sees interchangeable parts in defensive front seven: The way Michigan coach Greg Mattison sees it, th… http://t.co/ryX450xVWB — DetroitNews U-M (@detnewsUM) August 17, 2013
Speaking of defense, the Tide, and "Big-Boy" football. Linebacker James "Bigs" Ross discusses his development as a player, and how shocked he was playing against Alabama.
In high school he was used to players on the opponents offense avoiding him, in the game at Jerry's World, and his first at the college-level, he was dumbfounded when the offensive linemen sought him out.
Michigan's James Ross relied on instinct a year ago, now striving for perfection @MLive http://t.co/RyU0T8BYve

— Nick Baumgardner (@nickbaumgardner) August 16, 2013
Come to the message board and give us your thoughts, agree or disagree.
Just a reminder you must be a member to participate on the Message Board. Here is the link for the registration page for those people interested in becoming a GBMWolverine member of our message board. GBMWolverine Register.
Please comment on our GBMWolverine Message Board about this article and read what others comment. Make note that our message board has changed so make sure you change your favorite/bookmark as well for the direct link.
You can contact us at our e-mail address: GBMWolverine
Follow us on Twitter:
@ErocWolverine
@GBMWolverine
@Mike Fitzpatrick
@YostMeister
Written by GBMWolverine Staff — SkwdCop
Go Blue — Wear Maize! Tags: #GoBlue Coach Greg Mattison Football Go Blue Michigan Football Michigan Wolverines