Posted at 9:00am –9/4/2013
Michigan Football: A Look at the Irish — 9/4/2013
GBMWolverine Readers: Here is an overview of University of Notre Dame, Michigan's next opponent.
Never mind the Bollocks here comes the Irish.  Notre Dame-the-not-quite-so-pure-as-Boston College, Who had nearly fought the Crimson Tide, Who stood up and beat (barely w/ ref help) the vicious Pine Trees of Stanford, and who had personally wet themselves at the thought of a continued series with Michigan.  Okay enough of making fun of the leprechauns, one last point I will simply say "To hell with Notre Dame!"  As for the Irish team, this will be a rough battle, and one of only two left for the foreseeable future as there athletic director, in what was a Busch League move cancelled the series via a note before the game last year, and this series will end unfortunately next year in South Bend.
But Michigan is not feeling a cold shoulder, but instead as Hoke has identified the NCAA fandom is losing a good game, one which was the twelfth most watched game last year of all 2012 of BCS regular season games, so tell us again how regional the game is Kelly, we are used to things being twisted out of South Bend the home of the "Fig Things!" Okay, so I reneged on my word above, but that is not different from the regular Irish reneging.  So, now I am on to the Rudy's misguided children.
Woodsy the Owl
How many licks does it take to expose (even in a win) a lucky and overrated 2012 team? A One, A Two, A Six!  Okay, every team that goes undefeated has some Luck O' the Irish, but coming off an undefeated national championship appearance season, against a four win team, at home, I expected a much better game from an Irish team in its fourth season under Kelly out of pure fear if nothing else.  But if we do look at the Kelly Era we should not be surprised in fact his first games less a revenge spanking last year of the Navy, a school who saved the Irish from bankruptcy 50-6; all the matches were a low scoring win or loss – 2010 Purdue Win 20-13; 2011 UCF loss 23-20, and we know how the second games for the most part have went.  The Irish should be asking themselves, "Why did we not schedule Michigan as the fourth game?" The two games the teams have played in second spot during the Kelly tenure have resulted in Wolverine wins, the only loss the fourth game last year.  Also, another reality is the home team generally wins this contest and 22 of the forty games have been won by the home squad (one win was a neutral site game win for UM, and UM leads the series 23–16–1).  We also know the home field advantage Hoke and company are enjoying.  But man has this train through Mr. Kelly's neighborhood veered off track into Owl Weirdom.  The stats between Temple and ND in week one show how close this game was even with a 28-6 ND victory.  One thing that is impressive; however, and a concern with the upcoming game is turnovers, we know we had several against CMU, and how turnovers have doomed us against ND before, well Irish committed zero in the Temple game.  But now we will look at the Notre Dame team in earnest.  But not till after we celebrate the beloved Fig Thing in song.
2012 Season Overview
Record: 12-1, 2-0 (Independent)
Rushing Offense 38 – GM AVG 189.38
Passing Offense 71 – GM AVG 222.77
Total Offense 54 – GM AVG 412.15
Scoring Offense 78 – GM AVG 25.77
Rushing Defense 11 – GM AVG 105.69
Pass Efficiency Defense 16 – GM AVG 111.36
Total Defense 7 – GM AVG 305.46
Scoring Defense 2 – GM AVG 12.77
Net Punting 30 – AVG 38.62
Punt Returns 116 – AVG 2.19
Kickoff Returns 93 – AVG 19.60
Turnover Margin 27 – + .62
Pass Defense 25 – GM AVG 199.77
Passing Efficiency 74 – GM AVG 128.68
Sacks T-22 – GM AVG 2.62
Tackles For Loss 78 – GM AVG 5.38
Sacks Allowed T-28 – GM AVG 1.38
Coach Brian Kelly - 29–11 as ND Head Coach, Career Record 200–68–2.  Oh and his hair and temperament has not changed since preschool.
Team Record
All Games                            12-1
at Home                              6-0
on Road/Neutral Site          6-1
vs. Conference                     2-0
vs. Non-Conference            10-1
vs. Ranked (AP)                  3-1
vs. Unranked (AP)              9-0
vs. FBS (I-A)                       12-1
vs. FCS (I-AA)                     0-0
vs. FBS Winning                  8-1
vs. FBS Non-Winning         4-0
vs. BCS AQ                          10-1
vs. BCS non-AQ                  2-0
in August/September          4-0
in October                            4-0
in November                        4-0
in December/January         0-1
On Offense
The real stuff now.  This team is star-studded, and talent loaded.  Though the Irish lost their would-be starter Everett Golson to academic issues, the reality is the now unchallenged signal-caller Tommy Rees has caused us far worse damages than the athletic Golson.  In 2010 Rees played a couple of series in Kelly's first loss as a back-up to Dayne Crist, and Montana Jr. – in that 28-24 loss he threw two passes one to the ground the other to a Michigan
defender, in the 2011 loss he was much better throwing for over 300 yards and two TDs, and we all know he engineered  the win in 2012 and has continually improved from that point on.  Much of the offensive line is still in tact for the Irish and have the potential to win a trench war.  Though the running back depth is not what it was for the Irish they return George Atkinson who was their third leading rusher in 2012.  They also lost uber-TE Tyler Eifert but they return TJ Jones who was the second leading receiver in 2012, and who is the receiving leader this year; they also have plenty of talent though unproven in the receiving corps.
Offensive Two-Deep
QB 11 Tommy Rees 6-1.5 215 Sr./4 – 3 Star
QB 12 Andrew Hendrix 6-1.5 226 Sr./3 – 4 Star
WR 7 TJ Jones 5-11.25 195 Sr./4 – 4 Star
WR88 Corey Robinson 6-4.5 205 Fr./1 – 4 Star
WR 10 DaVaris Daniels 6-1.5 203 Jr./2 – 4 Star
WR 87 Daniel Smith 6-4 213 Sr./4 – 3 Star
LT 70 Zack Martin 6-4 308 Gr./4 – 4 Star
LT 57 Hunter Bivin 6-5.5 291 Fr./1 – 4 Star
LG 66 Chris Watt 6-3 321 Gr./4 – 4 Star
LG 75 Mark Harrell 6-4 305 So./1 – 3 Star
C 72 Nick Martin 6-4.5 295 Jr./2 – 3 Star
C 77 Matt Hegarty 6-4.5 300 Jr./2 – 4 Star
RG 74 Christian Lombard 6-5 315 Sr./3 – 4 star
RG 65 Conor Hanratty 6-4.5 309 Jr./2 – 3 Star
RT 78 Ronnie Stanley 6-5.5 318 So./1 – 4 Star
RT 79 Steve Elmer 6-5.5 317 Fr./1 – 4 Star
TE 85 Troy Niklas 6-6.5 270 Jr./3 – 4 Star
TE 18 Ben Koyack 6-5 261 Jr./3 – 4 Star
WR 2 Chris Brown 6-1.5 191 So./2 – 3 Star
WR 17 James Onwualu 6-1 215 Fr./1 – 4 Star
RB 4 George Atkinson III 6-1.25 220 Jr./3 – 4 Star
RB 3 Amir Carlisle 5-9.75 190 Jr./2 – 4 Star
On Defense
This is where the Irish team is truly gifted, though they run a 3-man front it is because they can. They show that ability  in creating pressure that requires double teams which allows the backers and, cheat-up safeties to fly around
the field attacking the play makers.  No one is larger and more important  than Louis Nix, it is not that Nix necessarily racks up crazy statistics but that he simply competes and creates such an interior push that he makes all the backers look NFL caliber in, which some LBs on the ND staff may never see but Nix definitely will, he also has skill players on the line with him.  The DB corps is probably better than all we will meet less maybe Ohio State, yes better than Sparty whose players are better because of the constant and effective blitz onslaught. The LB corps took a hit when Manti Teo went on to the league, or to live with his Catfish - whichever it was, but he is a heck of a talent, and though the current ones are also veteran players they are not of the same caliber, but Dan Fox leads the team in tackles in the infant 2013 season.
Defensive Two-Deep
DL 91 Sheldon Day 6-2 290 So./2 – 4 Star
DL 90 Isaac Rochell 6-3 280 Fr./1 – 4 Star
DL 1 Louis Nix III 6-2.5 357 Sr./3 – 4 Star
96 Kona Schwenke 6-3.5 303 Sr./4 – 3 Star
DL 7 Stephon Tuitt 6-6.25 322 Jr./3 – 5 Star
DL94 Jarron Jones 6-5.5 305 So./1 – 4 Star
OLB 55 Prince Shembo 6-1.5 258 Sr./4 – 4 Star
OLB 11 Ishaq Williams 6-5.25 261 Jr./3 – 5 Star
ILB 48 Dan Fox 6-2.75 245 Gr./4 – 4 Star
ILB 59 Jarrett Grace 6-2.5 253 Jr./2 – 3 Star
ILB 44 Carlo Calabrese 6-0.75 250 Gr./4 – 3 Star
ILB 8 Kendall Moore 6-1 251 Sr./3 – 4 Star
OLB 9 Jaylon Smith 6-2.5 230 Fr./1 – 5 Star
OLB 30 Ben Councell 6-4.5 254 Jr./2 – 4 Star
CB 6 Keivarae Russell 5-11 190 So./2 – 4 Star
CB 23 Lo Wood 5-10.5 194 Sr./3 – 3 Star
S 28 Austin Collinsworth 6-0.5 205 Sr./3 – 3 Star
S 22 Elijah Shumate 6-0 213 So./2 – 4 Star
S 41 Matthias Farley 5-10.5 204 Jr./2 – 3 Star
S 16 Eilar Hardy 5-11.25 201 Jr./2 – 4 Star
CB 2 Bennett Jackson 6-0 195 Sr./4 – 3 Star
CB 36 Cole Luke 5-11 184 Fr./1 – 4 Star
The Rundown
This game will probably follow suit of the last years, in other words clip your nails now.  The odds makers currently have Michigan as a three-point favorite, which essentially is the points they give to every home team which means Vegas feels we are an even match.  That is probably a fair assessment, both teams have the potential to take this game, and the one who does not make mistakes probably will.  The underdog also has been a statistical winner, which can leave us all perplexed – Vegas has ND as the underdog, but the polls have ND ranked higher making Michigan the underdog.  It is a lot like Googling Google.  The reality is the game will come down to turnovers, clock control, and whether ND tempo can trump the new Michigan pro-style offense.
To read more about the bad-blood history check out these perspectives from John U. Bacon, and some insignificant Irish Fan and Board.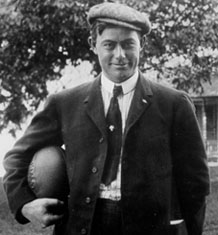 Yost still hates South Bend, the Irish, and Fig Knuteons.
Come to the message board and give us your thoughts, agree or disagree.
Just a reminder you must be a member to participate on the Message Board. Here is the link for the registration page for those people interested in becoming a GBMWolverine member of our message board. GBMWolverine Register.
Please comment on our GBMWolverine Message Board about this article and read what others comment. Make note that our message board has changed so make sure you change your favorite/bookmark as well for the direct link.
You can contact us at our e-mail address:  GBMWolverine
Follow us on Twitter:
@ErocWolverine
@GBMWolverine
@Mike Fitzpatrick
@YostMeister
Written by GBMWolverine Staff — SkwdCop
Go Blue — Wear Maize! Topics: #GoBlue, Fighting Irish, Go Blue, Irish, Michigan Football, Michigan Wolverines, Notre Dame