Posted at 9:00 am — 8/30/2013 Michigan Football: the tweet, The Tweet, THE TWEET! — 8/30/2013
GBMWolverine Readers: Here is an overview of University of Michigan happenings in the Twitterverse.
Now for a cheer they are here, triumphant! Here they come with banners flying, In stalwart step they're nighing, With shouts of vict'ry crying, We hurrah, hurrah, we greet you now, Hail! Well it is that time again, time for three yards and a cloud of dust, time for the Team to be more important than anything else, time for the band to take the field, time for the winged helmet, it is time for MEECHIGAN  football – THIS IS MICHIGAN FOR GOD'S SAKES!  It is at this time that current Wolverine quarterback Devin Gardner reminds us to – GO BLUE!!!
We're starting a new tradition in the Big House — listen up to Devin Gardner (@dg1two): http://t.co/EwCz9pSHMC #MICHvsCMU

— Michigan Football (@umichfootball) August 29, 2013
Gardner is ready to lead the Wolverines and Team 134 in what is sure to be an exciting 2013 season.  But it was not simply Devin's practice with the team, time in the film room, or grueling two-a-day practices that honed him to where he is.  Devin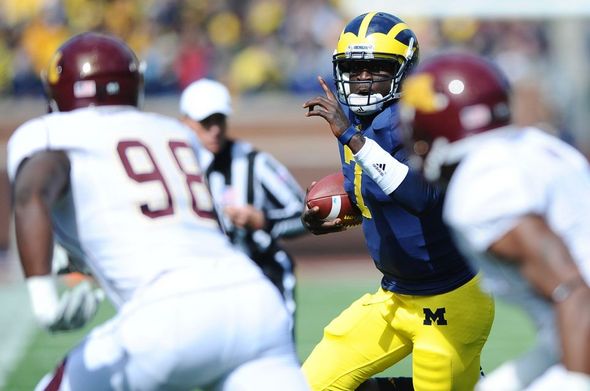 truly embraced this year, a year where his position as QB is unquestioned, a year that saw him coach and impress at the Manning QB Camp, a year that saw him spend time working with a professional QB coach George Whitfield, and through all this preparation he is ready.
5 Michigan keys: Devin Gardner and the downhill runni… http://t.co/Y4Nz089WfT — Wolverines Football (@UMFootballNews) August 30, 2013
This year feels almost like the rebirth of Michigan football.  It is inspiring hope, and bringing the Wolverine family back together, both young, old, and undefeated legend.  I will not droll on about the Rodriguez era, or badmouth the man as he was Michigan's coach, but since he has left we can feel and see a change, part of such change is the resurgence of pasty glory visitors from Tom Brady to the unblemished 1973 team (less the Rose Bowl Ohio farce), who along with the current roster are ready to take care of business and challenges of the past and present.
Behind the scenes at the recent 1973 Team reunion here in Ann Arbor > http://t.co/UTgRJvwkay #Frasers #NeverForget

— MVictors (@MVictors) August 30, 2013
Come to the message board and give us your thoughts, agree or disagree.
Just a reminder you must be a member to participate on the Message Board. Here is the link for the registration page for those people interested in becoming a GBMWolverine member of our message board. GBMWolverine Register.
Please comment on our GBMWolverine Message Board about this article and read what others comment. Make note that our message board has changed so make sure you change your favorite/bookmark as well for the direct link.
You can contact us at our e-mail address: GBMWolverine
Follow us on Twitter:
@ErocWolverine
@GBMWolverine
@Mike Fitzpatrick
@YostMeister
Written by GBMWolverine Staff — SkwdCop
Go Blue — Wear Maize!
Topics: #GoBlue, Coach Brady Hoke, Michigan Football, Michigan Wolverines