Posted at 9:30am — 8/26/2013 Michigan Football: the tweet, The Tweet, THE TWEET! — 8/26/2013
GBMWolverine Readers: Here is an overview of University of Michigan happenings in the Twitterverse.
O' CAPTAIN! my Captain! is a poem written by Walt Whitman to identify the loss of a great leader (Abraham Lincoln). Today we say congratulations O' Captains, Our Captains to instead identify the rise of the 2013 season Michigan Wolverines leaders. The team has chosen Taylor Lewan, Cam Gordon, Courtney Avery and Jake Ryan as the faces of the leaders and best.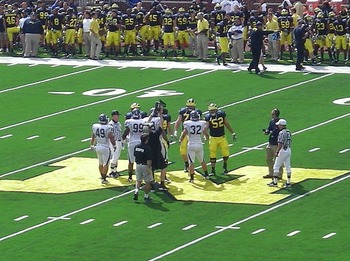 No doubt this is a special day for them, their family, and Team 134. This position is such an honor that in a recent meeting with the team Super Bowl Champion, former Michigan quarterback, and captain Tom Brady said it was said that his selection was more important than any MVP, or Superbowl win – being selected as Team Captain was as Brady identifies "The single greatest achievement I've had".
Michigan elects four captains for 2013: Taylor Lewan, Jake Ryan, Cam Gordon and Courtney Avery http://t.co/5p1sy9aHqX

— Nick Baumgardner (@nickbaumgardner) August 25, 2013
To continue in the vein of success, effort, and leading; Michigan also has identified three walk-on players to receive a football scholarship for the 2013 season. The three players not only earned this financial benefit, but based on many of the story-lines coming out of fall camp offensive lineman Graham Glasgow, fullback Joe Kerridge, and wide receiver Joe Reynolds will probably see significant playing time.
Michigan awards scholarships to three walk-ons: Graham Glasgow, Joe Kerridge and Joe Reynolds @MLive http://t.co/LtQSCQOCKP

— Nick Baumgardner (@nickbaumgardner) August 26, 2013
Over the last couple of days there have been a myriad of poles, predictions, and pontificating regarding Michigan's ability to have a good season. Many have the Wolverines winning
the Legends Division, many have them losing, and most have Ohio winning it all in conference. As we all know by now through Hoke's many interviews is there is only one marker in measuring Team 134's success – The B1G champion title. The question that remains prior to the season's beginning is does Michigan have the parts in place to create a winning recipe?
Mark Snyder: After two 'failed' seasons, Michigan has recipe for Legends title http://t.co/uZi1QLvkRA

— Mark Snyder (@Mark__Snyder) August 26, 2013
Come to the message board and give us your thoughts, agree or disagree.
Just a reminder you must be a member to participate on the Message Board. Here is the link for the registration page for those people interested in becoming a GBMWolverine member of our message board. GBMWolverine Register.
Please comment on our GBMWolverine Message Board about this article and read what others comment. Make note that our message board has changed so make sure you change your favorite/bookmark as well for the direct link.
You can contact us at our e-mail address: GBMWolverine
Follow us on Twitter:
@ErocWolverine
@GBMWolverine
@Mike Fitzpatrick
@YostMeister
Written by GBMWolverine Staff — SkwdCop
Go Blue — Wear Maize! Tags: #GoBlue Coach Brady Hoke Michigan Football Michigan Wolverines