 Posted at 6:45pm — 8/6/2013
Michigan Football: the tweet, The Tweet, THE TWEET! — 8/6/2013
GBMWolverine Readers: Here is a overview of University of Michigan happenings in the Twitterverse.
Well Michigan's football season has officially begun with the start of fall practice, as has been the situation since the Hoke regime has begun, the fort-like privacy has returned with little in the way of outflow media-wise from practices. However, there was the picture of receivers catching while navigating the arm obstacle.
Practice is officially underway. #Team134Camp pic.twitter.com/qbtkFTXgOA

— Michigan Football (@umichfootball) August 5, 2013
As Maizeman always identifies play makers need to be on the field. Thus the staff has decided to move Dennis Norfleet to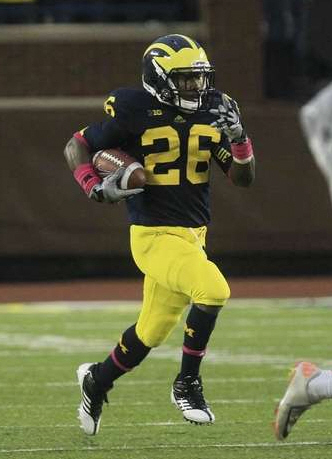 yet a third position that of slot receiver. With his speed, and ability in the open field, it will be interesting to see how he performs at the position.
Michigan's Dennis Norfleet makes move to slot http://t.co/6w7FAVXgFr — Freep Wolverines (@freepwolverines) August 6, 2013
We are all expecting big things out of Gardner, and we are not the only ones.  Devin has been selected as the top player to watch for a breakout year by ESPN's Travis Haney.  Haney talks about what he sees in Gardner, and goings on at Michigan.
Today on Insider: Top 50 breakout candidates in CFB. Who's No. 1? #Wolverines #Seminoles #Trojans #Cards ($) http://t.co/FA0X3ticLO — Travis Haney (@TravHaneyESPN) August 6, 2013
Speaking of selections, people noticing what is going on up in Ann Arbor, and the chemistry starting to take shape.  Athlon sports has picked the Wolverines as a dark horse candidate to win it all.
Why Oklahoma State, USC, Texas and TCU are darkhorse national championship contenders. http://t.co/nISa9SATe6

— Athlon Sports (@AthlonSports) August 6, 2013
Come to the message board and give us your thoughts, agree or disagree.
Just a reminder you must be a member to participate on the Message Board. Here is the link for the registration page for those people interested in becoming a GBMWolverine member of our message board. GBMWolverine Register.
Please comment on our GBMWolverine Message Board about this article and read what others comment. Make note that our message board has changed so make sure you change your favorite/bookmark as well for the direct link.
You can contact us at our e-mail address: GBMWolverine
Follow us on Twitter:
@ErocWolverine
@GBMWolverine
@Mike Fitzpatrick
@YostMeister
Written by GBMWolverine Staff — SkwdCop
Go Blue — Wear Maize! Topics: #GoBlue, Big Ten Conference, Coach Brady Hoke, Football, Go Blue, Michigan Football, Michigan Wolverines, Recruiting